In Russia we name them "syrniki" which means cheesy pancakes, but the main ingredient – cottage cheese Russians calls "tvorog" which is not a cheese actually. We eat "tvorog" with sour cream or jam on breakfast, it is very healthy and tasty. You can find a million of cottage cheese pancakes recipe with different ingredients but my recipe is the simplest I have ever seen! Russians cook these pancakes as quick breakfast. This recipe as simple as 1-2-3!  Just try to make pancakes by yourself  and you'll not be disappointed!
The ingredients we need for cottage cheese pancakes recipe:
400 gram cottage cheese
2-3 eggs
4 tablespoon sugar
pinch of salt
3-4 tablespoon flour
You can find cottage cheese in ANY Russian markets in milk section, it's very popular as kefir, sour cream etc.  We buy the cottage cheese packed in 200-250 gram packs. It is soft, defatted and a bit salty.
To turn this cottage cheese into light and tasty pancakes we need to add 3 eggs, 4 tablespoon sugar (or by taste), pinch of salt and mix all ingredients, to do this I always use my own tools – hands! It takes 1-2 minutes and the pastry is ready

I also recommend you to add a bit flour if the pastry looks wet but it always depends on cottage cheese. Mine was very soft so I did not add any flour into the pastry.
Dust the table with 3-4 tablespoon flour, take the pastry and shape into pancakes as shown in the pictures below.
Heat the frying pan on a medium heat, add 1-2 tablespoon oil and brown pancakes on each side
Well, as you can see my cottage cheese pancakes recipe is simple and easy to make but the taste of pancakes is gorgeous!
p.s. American recipes are my new passion! I invite you to share it with me. I've just joined Secret Recipe Forum and bought a really interesting and useful resource – Cook book collection with Restaurants recipes, it's called America's Secret Recipes. If you like and enjoy food like i do – you should give it a try. Really nice community to be with!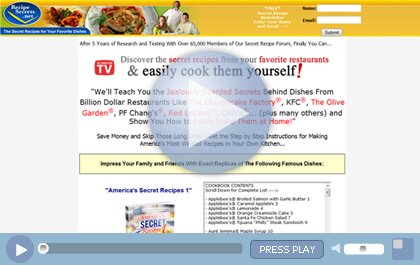 If you enjoy this site, please subscribe to my RSS feed
Related posts: