Blini pancake also known as Russian blini (bliny). Pancakes but actually not exactly…
Now here's the recipe of blini pancake or traditional Russian blinchiki or bliny as promised. Blini pancakes or bliny (blini) Russians usually cook for breakfast and eat with sour cream or jam but blinis are also good as an appetizer .  In this case Russians make different fillings for blinis - the most popular fillings are meat, mushrooms, cottage cheese etc. etc. Foreigners know our Russian bliny in their Royal variation – with caviar but telling you the truth Russians are hardly ever eat blini pancakes with caviar, just in case to impress somebody! There are also many blini recipe variations, somebody make blinis batter with yeast but I prefer to cook them without adding yeast. Taste is pretty similar but it's just about to save time.  Blini pancake recipe as well as ingredients are almost same as pancakes recipe but has some difference in preparation.
Well, to cook blinchiki we need
200 ml kefir
250-300 ml milk
2 eggs
2 tablespoon sugar
pinch of salt
1 teaspoon baking soda slaked in vinegar
2-3 tablespoon vegetable/sunflower oil (refined)
4-5 tablespoon flour
In a medium bowl whisk kefir, eggs, salt and sugar, 1-2 minutes would be enough, just to blend the ingredients.
Add 4-5 tablespoon flour and blend well. Measure a teaspoon of a baking soda (may be a bit less, not a big deal) and pour it into a tablespoon, slake baking soda with a vinegar (about a half teaspoon) and add fizzy mixture to batter. Whisk just a little bit. Mixture should have a sour cream consistence.
Now add milk and whisk well (2-3 more minutes), pour 2 tablespoon oil, stir by spoon or whisk and the batter is ready. It should be a bit stiffer as milk/kefir consistence (see photo).
Heat the frying pan with 1-2 tablespoon of oil, ladle (usually 1 non full soup ladle per one blinchik) the batter and pour into hot pan. Tilt the pan rapidly to spread the batter out evenly. It's OK if there are some places here and there on the pan left uncovered , it's much worse if you ladle more batter. Your blinchik should be VERY thin!
When the edges are crisp looking (1-1.5 minutes approximately) slide a spatula carefully under the blin or just hook the edge of blin with a knife and flip it over by hands. Cook for about 1 minute on the other side.
Eat the first one by yourself as it usually looks unattractively

  As the saying goes, you must spoil before you spin!
There is a saying in Russia as the first blin is always poor, the second one you should give to your friends and only the third one is yours.
When all your blini pancakes (blinchiki) are fried and if any of them are still left uneaten you may serve them with sour cream or your favorite jam!  Enjoy!
p.s. American recipes are my new passion! I invite you to share it with me. I've just joined Secret Recipe Forum and bought a really interesting and useful resource – Cook book collection with Restaurants recipes, it's called America's Secret Recipes. If you like and enjoy food like i do – you should give it a try. Really nice community to be with!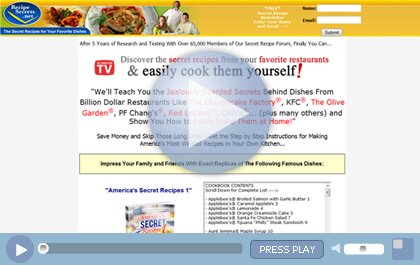 If you enjoy this site, please subscribe to my RSS feed