My Russian interpretation of Uzbek plov recipe.
As you might heard, cooking the Uzbek plov is a complicated and food usually screw up. That is because it has a certain technique to it that must be practiced and mastered. However you can cook plov without any problems and taste will be pretty similar as traditional Uzbek plov.  Indeed authenticity is a notion defined in each family when Plov is concerned! The main problem is Americans or Europeans  do not have the fortune of finding a traditional Uzbek or Central Asian spices. But if you really want to cook traditional plov - cumin/ jeera and saffron is essential.  Spices are the soul of plov, plov without spices we named porridge with meat. Plov is a very delicious and satisfying dish! I know many people who contend for their own "absolutely right" recipe of plov, but I cook it as I think this dish should be as for me, as my family like it. I tasted many plov variations – with mutton, lamb, with chicken, etc. etc. cooked by different techniques but my favorite is still mine. I hope you could cook plov following my recipe without any  problems or hidden dangers and will be absolutely satisfied. I'll also betray some secrets which should help you to cook the best plov ever! Let's  go to the kitchen and don't forget to have fun!!!!
Ingredients for 6-8 servings
1.3 lb meat
2 big onions
2 big carrots
2 cups uncooked rice
Boiling water, vegetable oil, salt, spices
Secret #1 KAZAN.
Well, the main "ingredient" you should have to make the right plov is KAZAN. Kazan is a large, round and thick-bottomed cast-iron pot.  If you don't have a cast iron pot, that's not a big deal but for this particular dish thick bottom is required. We need this to avoid our plov burning . OK, if you fortunately find kazan, let's get started!
MEAT.
I always use pork when cooking plov. Leg parts or arm shoulder parts of a pork but it isn't not so important. I have 1 lb of fresh fore end. Lovely! Cut the meat into middle pieces (it's up to you to decide what would be the best size). Than we need onion and carrot. Some Uzbeks will tell you that a good plov should contain as much onion and carrot as meat! E.g. if you take 1lb meat so there should be 1lb onion and 1 lb carrot. I'm hesitant to use too much onion and carrot, I always use 2 big onions, 2 big carrots and 1 lb meat.
Cut the onion into middle pieces, it doesn't matter what cutting technique you are using, actually you couldn't find the onion in plov at all. Carrot should be cut into small stripes as shown in picture.
After finished with meat, onion and carrot, heat 10 tablespoons or approximately 1 cup of vegetable oil in kazan for 4-5 minutes in a medium heat. Traditionally plov cooked in a lamb fat , Uzbek recipes always insist on using lamb fat, but I prefer vegetable oil. Oil should be burning hot. Than put all vegetables and stir thoroughly for 6-7 minutes until getting soft and slightly colored (do not fry until brown!)
Secret#2 SPICES! Use non grinded seeds!
To the oil-onion-carrot mixture add 2 teaspoons salt, 2 teaspoons cumin/jeera seeds, 3-4 teaspoon barberries, 2 spoon saffron powder or turmeric and a  pinch of coriander seeds, stir vegetables with spices and put meat right away.
Fry on a medium heat 10-12 minutes stirring occasionally. After 10-12 minutes pour hot boiled water just to cover the meat. Stir well. Turn the heat down to low and leave to stew for about 1-1.5 hours. Meat should be very soft. Taste the sauce, it should be bit too salty.
RICE.
Secret # 3 RICE!
My own secret is – before cooking plov I wash the rice thoroughly in a medium bowl, than pour a cold water, add 1-2 teaspoon salt and leave for 3-4 hours.
Well, now it's time to add rice. Long grain parboiled rice or basmati would be great to avoid a mushy but as for me, I like it in mushy consistence! A bit freaky, right?

Well, pour the rice evenly over the meat and flatten the surface with a large slotted spoon. Now pour it over hot water, water should be 2-3 centimeters (1 1/2″) higher that rice. The most important thing: DO NOT STIR THE PLOV SINCE THAT MOMENT!!! Just cover and simmer it until all of the water evaporates (25-30 minutes). Do not mix the rice and meat with sauce! Keep a close eye on it or it will burn. You may pierce some holes in the center with spoon to make sure the plov does not stick at the bottom but DO NOT stir it! After all the water evaporated, turn the heat off and put one whole UNPILLED garlic in the center of your plov. Cover and leave with the heat off for 5-10 minutes to let flavors mix to each other. That's it! It's time to set table and invite friends! Now you may stir your plov and dish it out. Do not forget to through out the garlic.
p.s. American recipes are my new passion! I invite you to share it with me. I've just joined Secret Recipe Forum and bought a really interesting and useful resource – Cook book collection with Restaurants recipes, it's called America's Secret Recipes. If you like and enjoy food like i do – you should give it a try. Really nice community to be with!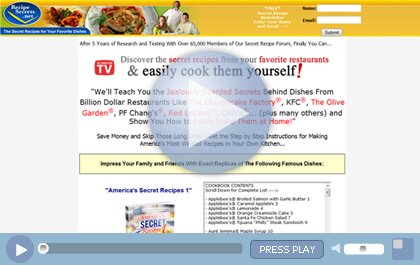 If you enjoy this site, please subscribe to my RSS feed