Absolutely traditional Russian breakfast! Absolutely amazing taste! Cooking oladi will take no more than 10-15 minutes of your time but they worth every single minute! Nothing can be better on breakfast! Hot, just fried, soft inside and a bit crispy edge! It's a best breakfast for you and your kids! Serve them with a sour cream, honey, jam or fresh berries and enjoy your breakfast! If you were in Russia and haven't got a chance to taste Russian oladi – well, I consider you have never been in Russia at all.
There are 2 varieties of pancakes – blinchiki and oladi. When I'm traveling overseas I'm almost 100% sure that I can find pancakes  in a menu, but the result I see on my plate is always unpredictable! Blinchiki, oladi – they all are called pancakes but it's a HUGE difference between them! So, I feel that sharing the traditional Russian pancakes recipe is a necessity to avoid any possible mix ups.  I'll post blinchiki's recipe soon, you'll see the difference by yourself.
To cook oladi you need:
1 egg
1 pt kefir = 0.5 liter
4 tablespoons sugar
pinch of salt
7-8 tablespoons flour
1 teaspoon baking soda slaked in vinegar
Yield: 30-40 oladi , 3-4 servings.
In a medium bowl whisk (I always do it by fork) kefir, egg, sugar and salt – 1 minute, just to blend the ingredients. Than add flour and whisk everything for another 1 minute (by fork or spoon, do not use mixer!). Measure a teaspoon of a baking soda (may be a bit less, not a big deal) and pour it into a tablespoon, fill baking soda with a vinegar (about a half teaspoon) and add fizzy mixture to pastry. Blend just a little bit and pastry is ready! I bet you spent no more than 5 minutes to prepare it! The consistence of pastry should be as a sour cream, a bit thiny than a sponge pastry.  Now it's time to preheat a fry pan with 5-6 tablespoon of oil, spoon up a pastry and fry in a medium heat 1-2 minutes from each side.
p.s. American recipes are my new passion! I invite you to share it with me. I've just joined Secret Recipe Forum and bought a really interesting and useful resource – Cook book collection with Restaurants recipes, it's called America's Secret Recipes. If you like and enjoy food like i do – you should give it a try. Really nice community to be with!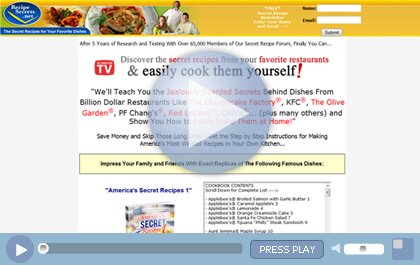 If you enjoy this site, please subscribe to my RSS feed