Sweet rolls with your favorite jam.  I'm not sure if it's a traditional Russian dessert or not but it doesn't really matter, this recipe is perfect for just about any occasion and it is so very easy and quick to prepare and cook. They are wonderful warm or cold and can be served with fresh berries or with a little ice cream. Otherwise just let your guests delight the sweet rolls with a cup of tea or coffee – perfect! Amazing dessert if your guests come without notice. You'll spend no more that 30 min to bake my favorite sweet rolls!
Not sure if I need to praise the sweet rolls as pictures speak for themselves.  You'll definitely spend more time reading a recipe than cooking them! Anyway here's the
Pastry:
2 yolks
160 gram butter room temperature
100 gram sour cream
1 teaspoon baking soda
350-400 gram flour
Filling:
Your favorite confiture/jam + grinded nuts (by taste)
If you did not forget to add some ingredients,  the pastry should be as shown in the picture!

Instructions!
Mix all ingredients except flour in a medium bowl (I used my own tools – hands)! Gradually add enough flour to make a stiff batter that pulls away from your arms, than knead on a lightly floured surface until smooth and elastic, about 7-10 minutes, add more flour if necessary.  Shape into flattened round and cut into 2 equal parts.  Roll into thin circle each part of pastry using floured rolling pin, spread with the filling thinly. Try to cut the circle into equal sectors.  Fold each sector into roll starting from the wide side.  Arrange each roll in a baking tray covered with cookie sheet. Brush top of each roll with whisked egg. Bake in oven heated to 356F for 20-25 min or until golden brown. Dust baked sweet rolls lightly with powdered sugar. They look great and taste delicious! Your guests will be impressed!
p.s. American recipes are my new passion! I invite you to share it with me. I've just joined Secret Recipe Forum and bought a really interesting and useful resource – Cook book collection with Restaurants recipes, it's called America's Secret Recipes. If you like and enjoy food like i do – you should give it a try. Really nice community to be with!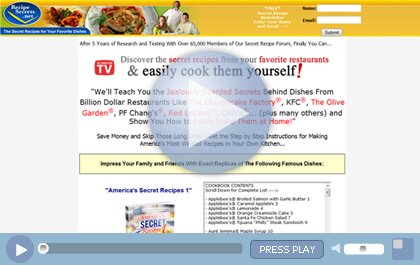 If you enjoy this site, please subscribe to my RSS feed
Related posts: