Pelmeni.
You must be heard from your Russian friends that cooking traditional Russian pelmeni is more pain than a satisfaction.  But that's not true. Russian pelmeni recipe involves only 2 steps: making the dough and making the filling. Well, assembling pelmeni is also a big step, but very interesting. Do not believe if anyone says that molding pelmeni is a pretty tedious business! It's all about to having fun! Time-honored tradition of making pelmeni gathers all family members around the table and makes the process cooperative and interesting often accompanied by hours of songs and stories. Pelmeni can be bought pre-made in the freezer section of any Russian supermarket. They are a hearty meal that cooks quickly and easily, but most Russians still prefer the tradition of making them by hand, and Russian housewives consider it a question of honor to do so. Moreover the taste of home-made pelmeni is absolutely different. Anyway pelmeni are tasty and a true taste of Russia.
Now you have a chance to take a liking to pelmeni just following my Russian pelmeni recipe.
Russian pelmeni recipe:
Step one. Dough
To make dough we need
210 ml cold water
1 egg
1 teaspoon salt
400 gram flour
I always make dough in a bread maker, it does a great job of making dough, it's very simple and doesn't take more than a 20 minutes. Bread maker makes the exact consistence of dough we need to cook a good pelmeni. Very elastic, soft but not too sticky. If you don't have bread maker sift the flour into a table. Make a dimple in the top and crack the egg into that. Add 1 teaspoon salt. Adding the cold water gradually, knead the dough vigorously 15-20 minutes.
Step two. Filling.
0.5 lb beef ground
0.5 lb pork ground
1 middle onion
Salt, pepper, spices by taste
Pelmeni filling consists of ground beef and pork mixed with ground or grated onion, salt and pepper. I prefer to add 1 chopped clove of garlic. Combine all ingredients and filling is ready.
Assembling pelmeni.
My favorite part! Cut the dough into 2 pieces, one piece cover with something (kitchen towel, bowl) or wrap in a plastic bag otherwise the dough will dry up.  Roll the dough into a long "snake" one inch in diameter. Cut the dough at one-inch intervals and roll the pieces out into circles using floured rolling pin 1/16 to 1/32 of an inch thick. Place a teaspoon of the meat filling in the center and fold the dough over, pinching edges firmly to completely seal each pelmen into a small packet. There should be no holes in the dough to preserve the flavor and consistency of the meat inside. Than pinch 2 sides of pelmen to get the final shape. I hope it would be much easier to follow step by step photo Russian pelmeni recipe than read this one!
Tip
If dough circles are still available and the filling comes to an end I also boil the circles without filling. They are too good with a sour cream to through them out.
The final step is boiling.
Boil a generous amount of water with 1-2 tsp. salt. Drop enough pelmeni into the boiling water. They are ready to eat when they floating to the top for 3-4 minutes and stay there. Take pelmeni out using skimmer.  Add 1-2 teaspoon butter. Serve with a sour cream. If you did everything right each pelmen should look as shown in the picture, without holes and with a drop of delicious broth inside. Yummy!
From this amount of ingredients there should be 30-40 pelmeni, 3-4 servings.  But traditionally we make 100-150 pelmeni and keep them frozen over time so if you plan to store your pelmeni, freeze them uncooked.
Buy the way, you would like to have a proper book with Pelemi recipe as well as Russian recipes, i would recommend you to check the books below. I have all of them!
p.s. American recipes are my new passion! I invite you to share it with me. I've just joined Secret Recipe Forum and bought a really interesting and useful resource – Cook book collection with Restaurants recipes, it's called America's Secret Recipes. If you like and enjoy food like i do – you should give it a try. Really nice community to be with!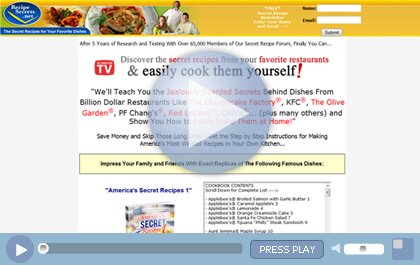 If you enjoy this site, please subscribe to my RSS feed
Related posts: